Datum/Uhrzeit
Date(s) - 18.03.2024 - 20.03.2024
ganztägig
Ort
on-line
Principle-Based Evolutionary Scaling of Agile and Scrum
ScaleAgility Principles in Action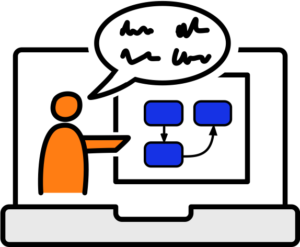 Kurssprache: Englisch
Interactive online edition of the 3-day course
Scaling Agile and Scrum
---
Course Times:
09:00-17:30 for all three days
Prices:
Regular ticket: 1.700 € plus VAT
Early Bird ticket (payment before 18.02.2024) : 1.550 € plus VAT
The prices are net of any applicable VAT (19% in Germany).
Group discount:
10% for three or four participants
20% for five participants
The price includes:
– course participation
– course materials
– access to electronic resources
Course Language: English
---
ScaleAgility is a collection of fundamental principles for large-scale agility and practical tools for pragmatic and effective implementation. It was created by an international group of five coaches and trainers, who collected and combined their experience of more than 70 years of large-scale agile transformation, distilling the key elements that determine its success.
Here you can find training on ScaleAgility directly from one of their creators:
Pierluigi Pugliese, founder of Connexxo and Certified Scrum Trainer.
---
Target Group
The course is intended for managers, Scrum Masters and coaches working with large products in large organisations and intending to transform them to agile.
Agenda
What is a Product?
The evolution of the Product Definition  as driver for business development
The large-scale Product Owner: useful and harmful patterns
Large-scale teams: collaboration and building of know-how
Large-scale engineering practices from a leadership perspective: definition, possible support and typical mistakes
Large-scale leadership
How can HR support the business transformation?
Budgeting and funding
Horizontal and vertical scaling
The course requires a basic understanding of the Scrum framework. Please make sure you have visited a basic training on Scrum and agile before joining this course! Like, for example our Certified Scrum Master®, Certified Scrum Product Owner® classes or our Agile Fundamentals.
---
Registration:
Please use the online booking form below. When your booking is confirmed, we will send you an invoice, to be paid by bank transfer within 10 days – otherwise the place will be reassigned.
Cancellation Policy:
Up to 30 days prior to the beginning of the course: 100% refund
Up to 14 days prior to the beginning of the course: 50% refund
Less than 14 days prior to  the beginning of the course: no refund
The participant can be replaced at any time.
Should we cancel the course, your investment will of course be reimbursed.
We are not responsible for any additional costs incurred by the participant.
---
Bookings