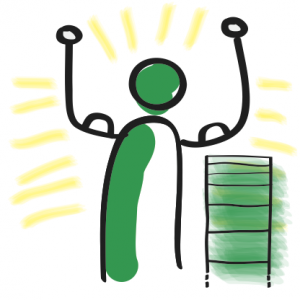 [Oooops… stiamo ancora traducendo le pagine del sito e ci vorrà ancora qualche giorno prima che anche questa pagina sia in Italiano!]
As a key role between the business and the delivery organisation, the Product Owner is the person responsible to "get the things done".
The role itself is very broad and it requires several different skills, sometimes even in opposition against each other: market expert and product expert, competence in the software development processes and understanding of how the client "ticks", being able to see "the forest" of the product and capable of focusing on the "trees" of the details of the individual stories, servant leader with the team and negotiator with the client.
With all these requirements to the role, it is no wonder the typical product owner struggles in parts of it…
In this three-day advanced training we will look at various parts of the Product Owner role, discussing the most advanced techniques available:
Product Backlog techniques
Story definition
Story splitting
Project and portfolio prioritisation
Techniques for working with the team
Techniques for interacting with stakeholders – Requirements definition tools
Product development flow
Se siete interessati ad organizzare questo corso presso la vostra azienda contattateci usando il form qua sotto e vi risponderemo al più presto.
Course Organisation
The training is a mix of frontal lesson and practical activities directed to the integration of the learned content in the daily operations of the participants.
Target Group
It is especially suited for Product Owners and Product Managers of organisations that have implemented or are implementing agile solutions in their company.
Agenda
Scrum and the Product Owner role
The Product Owner as responsible for the Return of Investment
Prioritisation techniques
Product development flow: managing queues and work in progress
Looking at the whole value chain: Value Stream Mapping
From Idea to Backlog: techniques for product inception
Techniques for portfolio management
Fundamental Lean Startup Techniques
Requirements Engineering: requirements definition, techniques and pitfalls
Writing precise requirements and sound acceptance criteria
Scaling techniques: Large Scale Scrum
The Product Owner as organisational leader: interacting with teams and stakeholders
The course requires a basic understanding of the Scrum process: the participants should have had some exposure to the concepts of Sprint, ScrumMaster and Team, Stories, Iterative and Incremental development. A short practical experience in a Scrum project is a definite plus.
The course can be delivered also as an in-house training and in English, German or Italian language.
The training material is in English.
Scheduled Courses
The course is available only in-house for now.
If you are interested in having this course as a in-house or to get the upcoming dates for public courses please tell us about it using the form below and we'll come back to you with updated information.
Participants say...
Very interesting, very effective!
I won a much deeper understanding of the interactions among Team, Customer and Product Owner. Especially the tools to develop requirements from vague ideas will help in future product development.