Data/Ora
12/05/2017
10:00 - 17:00
Sede
Spazio Cantoni
Leading as a host:
Stepping forward and back for engagement, performance and results
Workshop con Dr Mark McKergow.
Magari sei uno dei molti leader di tutto il mondo che vorrebbe:
coinvolgere il team e l'organizzazione – in modo da fare di più senza esaurire
stimolare le persone a lavorare insieme in modo efficace – sia dall'interno che dall'esterno dell'organizzazione
vedere il proprio ruolo come colui che sa trarre il meglio da tutti i talenti – non solo dicendo che cosa fare dopo
rispondere alla continua evoluzione del contesto di business per tenere conto delle nuove opportunità e apprendimenti – non solo fare un piano e sperare per il meglio.
La metafora del leader come host, al contrario di un eroe o un servo, sta creando una nuova ondata nell'ambito della leadership e dell'agilità. Il pensiero attuale di leadership sembra mettere l'accento sul leader. Questo è un errore. Leading parla di un rapporto – tra il leader e gli altri.
Questo workshop con Dr Mark McKergow vi introdurrà al concetto di Host Leadership. La lingua del corso è l'inglese, ma la nostra squadra Connexxo Italia fornirà a tutto tondo sostegno italiano per assicurarsi che tutti i partecipanti possano trarre pieno vantaggio dei contenuti.
---
Key content
Leadership challenges today – in the agile world and elsewhere
How can you lead by stepping back, as well as stepping forward?
A new yet ancient leadership metaphor – leading as a host
Six roles and four positions for a host leader
Putting it all together to address real-life leadership challenges
Objectives
During the workshop, participants will:
Consider the challenges facing leaders in today's fast-moving organisational settings
Meet the metaphor of leading as a host – a new yet ancient way of thinking
Discover the rich 'hostory' – the background to hosting and the host/guest relationship
Connect with the six 'roles of engagement'
Stand in the four positions of a host leader
Outline
Perhaps you are one of the many leaders around the world who would like to:
Engage your team and organisation – so they do more and you don't get burnt out
Draw people together effectively – both from inside and outside your organisation
See your role as making the most of all the talent – not just telling it what to do next
Navigate the continually changing business environment to take account of new opportunities and learnings, not just make a plan and hope for the best.
The metaphor of leading as a host, as opposed to a hero or a servant, is currently creating new waves on the leadership and agile scene.  Much current leadership thinking seems to put the focus on the leader. This is a mistake. Leading is about a relationship – between the leader and the others.
Host Leadership is about building relationships – at work, in the community, in society, at home – to engage others. This engagement is the key ingredient that leads to increased performance and results.  The art of hosting is as ancient as humanity itself – and it can also provide a rich and inspiring framework for many practical leadership skills. It also provides an excellent agile-friendly leadership paradigm for agile coaches and leaders who want to lead better, and leaders who seek better engagement and responsiveness.
More about the Dr Mark McKergow:
Dr Mark McKergow is an international speaker, consultant and teacher.  A 'recovering physicist', his work over more than two decades has focused on responsive and emergent approaches to complex situations.  Mark has developed and hosted many aspects of the international Solutions Focus (SF) community since 2000, and is co-author of three related books including best seller 'The Solutions Focus' (Nicholas Brealey Publications, 2007, now in 11 languages).  He has been closely involved with founding both the SOLWorld network and the SFCT professional body for SF consultants and trainers.  He edits the SFCT peer-reviewed journal InterAction and is a member of the Transformational Leadership Council.  Find out more about Mark at www.sfwork.com and www.hostleadership.com.
---
Prices:
Earlybird (prima del 28 aprile 2017)        650 EUR + IVA
Regular Price (dal 29 aprile 2017)             750 EUR + IVA
Sconti. Sono previsti per gruppi di tre o più persone: per favore contattateci per dettagli.
---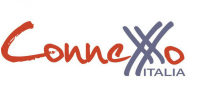 Questo evento è organizzato da Connexxo Italia srl.
Bookings
Bookings are closed for this event.