Date/Time
Date(s) - 14/02/2018 - 15/02/2018
All Day
Location
Spazio Cantoni
This course will be held in Italian!
This 2-day CSM® course can be combined with a Certified LeSS Basics course, which provides valuable information about scaling agile development to multiple teams. If you are interested in this 3-day course with a special bundle price, please select the 3-day option offered below.
Questo corso pubblico è diretto a chi vuole imparare l'arte di essere ScrumMaster in un corso interattivo in cui vengono utilizzate le più moderne tecniche didattiche per adulti.
Programma:
Cos'è l'agilità e perché serve all'azienda moderna
Il Manifesto dello Sviluppo Software Agile e i principi di Scrum
Scrum
Eventi e artefatti di Scrum
Ruoli in Scrum: ScrumMaster, Product Owner e Team
Implementare correttamente il ruolo di ScrumMaster
Il Product Backlog e il suo sviluppo temporale
User Stories
Metodi di stima agile
Pianificazione e controllo di progetti agili
Implementare Scrum in azienda: pattern positivi e problemi tipici
Opzionale: Scalare Scrum
Orari del corso:
Primo giorno: 10:00-18:00
Secondo giorno: 9:00-17:00
Investimento:
Tariffa regolare: 1300 EUR  + IVA
Early Bird: 1100 EUR + IVA per pagamenti avvenuti entro 14/01/2018
Riduzioni per gruppi:
10%  per 3 o 4 partecipanti
20% da 5 partecipanti
Trainer: Pierluigi Pugliese, Certified Scrum Trainer
L'investimento comprende:
La partecipazione al corso
I materiali del corso
Pranzi e pause caffé
I costi di certificazione (per l'esame: 2 tentativi)
2 anni di affiliazione a Scrum Alliance
Due ore di coaching telefonico da effettuarsi entro un anno dalla data di fine del corso
Registrazione:
Si prega di utilizzare la registrazione elettronica qua sotto. Dopodiché vi invieremo una fattura che vi preghiamo di saldare entro 10 giorni per evitare che il posto al corso venga riassegnato e comunque prima dell'inizio del corso. Per il diritto alla tariffa Early Bird fa fede la data del pagamento.
Condizioni di storno:
Fino a 30 giorni dall'inizio del corso: rimborso 100%
Fino a 14 giorni dall'inizio del corso: rimborso 50%
Meno di 14 giorni dall'inizio del corso: nessun rimborso
La sostituzione del partecipante può avvenire in qualsiasi momento.
Nel caso dovessimo cancellare il corso il vostro investimento verrà ovviamente rimborsato. Non siamo responsabili di eventuali ulteriori costi sostenuti dal partecipante.
Materiali del corso: Inglese, con parti in italiano.
---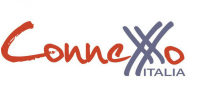 This event is organised by Connexxo Italia srl.
Bookings
Bookings are closed for this event.