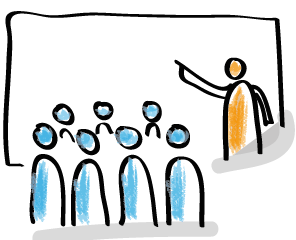 Do you need to boost the knowledge of agile in your organisation? There is nothing better than investing some focused classroom time to learn new skills. With us you can choose among one of the most comprehensive training programs of the industry: from basic courses to bring the initial knowledge of agile in your company to advanced courses focused on the various agile roles and the way they are performed.
Connexxo courses
The courses are more than just classroom: they are based on the most modern adult learning techniques and they can, of course, be customised to your needs by adding or removing modules. There are plenty of practical experiences waiting for you: exercises, group reflections, instructional games, …, all devised to support a seamless integration of the learned matter in your professional life.
All of the courses are available in English, German or Italian and can be also delivered in-house. Please contact us to discuss your training needs.
Currently scheduled public courses
Date
Event
23/09/2019 - 24/09/2019

Certified ScrumMaster®
Istituto Piero Pirelli, Milano
Language: Italian
25/09/2019
09:00 - 17:00
Certified LeSS Basics
Istituto Piero Pirelli, Milano
Language: Italian
26/09/2019 - 27/09/2019

Certified Scrum Product Owner®
Istituto Piero Pirelli, Milano
Language: Italian
07/10/2019 - 09/10/2019

Certified LeSS Practitioner with Craig Larman
Istituto Piero Pirelli, Milano
Language: English
07/10/2019 - 08/10/2019

Certified Scrum Product Owner®
Xebia Amsterdam, GS Amsterdam
Language: English
10/10/2019 - 11/10/2019

Advanced Certified Scrum Product Owner
Xebia Amsterdam, GS Amsterdam
Language: English
17/10/2019 - 18/10/2019

Certified Scrum Product Owner®
Munich – TBD, München
Language: Deutsch
28/10/2019 - 29/10/2019

Certified ScrumMaster®
Istituto Piero Pirelli, Milano
Language: Italian
04/11/2019 - 05/11/2019

Advanced Certified Scrum Product Owner
Xebia Amsterdam, GS Amsterdam
Language: English
07/11/2019 - 08/11/2019

Certified Scrum Product Owner®
Xebia Amsterdam, GS Amsterdam
Language: English
18/11/2019 - 19/11/2019

Certified ScrumMaster®
Munich – TBD, München
Language: Deutsch
02/12/2019 - 03/12/2019

Certified ScrumMaster®
Istituto Piero Pirelli, Milano
Language: Italian
04/12/2019
09:00 - 17:00
Certified LeSS Basics
Istituto Piero Pirelli, Milano
Language: Italian
05/12/2019 - 06/12/2019

Certified Scrum Product Owner®
Istituto Piero Pirelli, Milano
Language: Italian