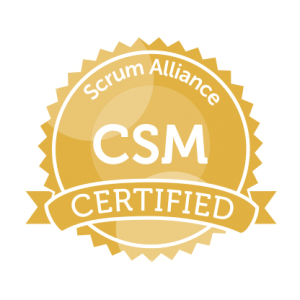 As a Scrum Master you are passionate in supporting your team, a true servant leader aiming to help the people you work with achieving their best and, at the same time, you act as an organisation-wide change agent.
Scrum seems easy at first sight, but using it effectively is a much more difficult challenge: to be successful in your job you need to understand Scrum way beyond the basics in order to be able to use it in an optimal way and exploit its full benefits.
Whether you are using Scrum already or you are just planning to start with it, learning the foundations of the role is an important step in understanding Scrum and other agile methods.
In this two-day training we will look at Scrum in the context of agility, understanding how and why it works, the roles and their interactions and everything needed to start working effectively as a Scrum Master with a team.
At the end of the course you will be able to access the certification exam of the Scrum Alliance, the biggest and best known certification body for agility. After successful completion you will be a Certified ScrumMaster.
Below you find a list with the currently scheduled public courses with the possibility to register online. If you are interested in having this course as a in-house please tell us about it using the Contact Form Course and we'll come back to you.
Please note: This course includes a certification issued by Scrum Alliance, Inc., 7237 Church Ranch Blvd. #Suite 410, Westminster, CO 80021, USA, as third party provider. For registration / certification @Scrum Alliance the names and eMail addresses of the participants will be entered in the Scrum Alliance database upon successful completion of the course. Please be aware that your personal data will be processed by Connexxo and passed on to Scrum Alliance as third party in the described fashion. You will then be contacted by Scrum Alliance by eMail to set up a protected personal user account in order to have access to the online exam and / or the certificate. More information: https://www.scrumalliance.org/privacy-policy
Course Organisation
The training is based on the most modern techniques for adult education and is a balanced mix of frontal lesson and practical activities directed to the integration of the learned content in the daily operations of the participants.
We will use plenty of case studies, where possible coming from the participants.
Target Group
The course is intended for Scrum Masters, managers and developers in organisations who are starting to use Scrum and, generally, for all professionals interested in achieving the Certified ScrumMaster certification.
Agenda
What is agility and why do we need it?
Scrum in the context of agility
Introduction to Scrum
"Active Principles" of Scrum: why does it work?
Scrum Team dynamics
Scrum roles: Scrum Master, Product Owner, Developer
Potential of the roles and challenges in living them
Scrum increment and its value
Product Backlog and its lifecycle
The five activities and the 3+ artefacts
The limits of applicability of Scrum
How to apply Scrum in organisations: case studies and typical pitfalls
Elements of an agile organisation
Optional: basic techniques for scaling agility
The course requires a basic knowledge of the Scrum process: the participants are requested to having read a basic introductory text on Scrum like Ken Schwaber's and Jeff Sutherland's Scrum Guide before joining the course.
The course investment includes the certification costs and the Scrum Alliance membership for two years.
The course can be delivered also as an in-house training and in English, German or Italian language.
The training material is in English.
Scheduled Courses
If you are interested in having this course as a in-house or to get the upcoming dates for public courses please tell us about it using the form below and we'll come back to you with updated information.
Participants say…
Very interesting session, lot of interactions & discussions among participants.
Good activities and interactions and a lot of examples. Should be attended by the whole organisation, from management/business to developers.
Practical group exercises to "get to the point"!
This course is not limited to Scrum only, but also gives good insights on team management and human psychology.
The course is really good. I could learn a  lot. The presentation and the visual materials of the course are impressive. The interactive exercises help a lot to understand!