Date/Time
Date(s) - 23/06/2021 - 24/06/2021
All Day
Location
Connexxo Italia Academy
This course will be held in Italian!
Corso con certificazione! Include una sessione di due ore di coaching/mentoring telefonico individuale valida per un anno dalla data del corso. Offerta Early-Bird e sconti per i gruppi.
---
This course is planned as an in-person class. Should the situation require a change of format, it very likely will be simply converted to a live and interactive online course. This means that it is delivered via video-conferencing and designed in a way to reflect as much as possible the classroom experience. In addition to the standard content, the online courses include ideas and experiments in the context of how to be able to work with Scrum in distributed teams.
---
Questo corso pubblico è diretto a chi vuole imparare l'arte di essere Product Owner in un corso interattivo in cui vengono utilizzate le più moderne tecniche didattiche per adulti.
Programma:
Cos'è l'agilità e perché serve all'azienda moderna
Scrum
Eventi e artefatti di Scrum
Ruoli in Scrum: ScrumMaster, Product Owner e Team
Il ruolo del Product Owner in dettaglio: caratteristiche fondamentali e errori tipici
Implementare correttamente il ruolo di Product Owner
Dall'idea al Backlog
Il Product Backlog e il suo sviluppo temporale
User Stories
Metodi di stima agile
Pianificazione e controllo di progetti agili
Scalare Scrum e il ruolo del product owner nello sviluppo di un prodotto complesso
Orari del corso:
Primo giorno: 9:00-17:30
Secondo giorno: 9:00-17:30
Riduzioni per gruppi:
10%  per 3 o 4 partecipanti
20% da 5 partecipanti
Investimento:
Tariffa regolare: 1.300 EUR  + IVA
Early Bird: 1.100 EUR + IVA per pagamenti avvenuti entro 23/05/2021
Trainer: Pierluigi Pugliese, Certified Scrum Trainer
L'investimento comprende:
partecipazione al corso
i materiali del corso
ulteriore materiale informativo
pranzi e pause caffé
accesso a video aggiuntivi per l'apprendimento
schede di autovalutazione
costo della certificazione e due anni di iscrizione alla Scrum Alliance
due ore di coaching individuale telefonico / tutoring per persona, valide per un anno dalla fine del corso
Nota bene: Questo corso include la certificazione rilasciata da Scrum Alliance, Inc., 7237 Church Ranch Blvd. #Suite 410, Westminster, CO 80021, USA, come fornitore esterno. Per la registrazione / certificazione @Scrum Alliance i nomi e gli indirizzi e-mail dei partecipanti saranno inseriti nel database di Scrum Alliance al termine del corso. Si prega di tener presente il fatto che i suoi dati personali saranno trattati da Connexxo e trasmessi a Scrum Alliance come fornitore esterno come sopra esposto. Sara' quindi contattato da Scrum Alliance via e-mail per creare un user account personale protetto per poter accedere all'esame online e / o al certificato. Maggiori informazioni: https://www.scrumalliance.org/privacy-policy
Registrazione:
Si prega di utilizzare la registrazione elettronica qua sotto. Dopodiché vi invieremo una fattura che vi preghiamo di saldare tramite bonifico bancario entro 10 giorni per evitare che il posto al corso venga riassegnato e comunque prima dell'inizio del corso. Per il diritto alla tariffa Early Bird fa fede la data del pagamento.
Condizioni di storno:
Fino a 30 giorni dall'inizio del corso: rimborso 100%
Fino a 14 giorni dall'inizio del corso: rimborso 50%
Meno di 14 giorni dall'inizio del corso: nessun rimborso
La sostituzione del partecipante può avvenire in qualsiasi momento.
Nel caso dovessimo cancellare il corso il vostro investimento verrà ovviamente rimborsato. Non siamo responsabili di eventuali ulteriori costi sostenuti dal partecipante.
Materiali del corso: Inglese, con parti in italiano.
---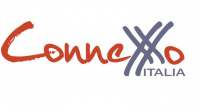 This event is organised by Connexxo Italia srl.
---
In caso di prenotazione come cliente business, vi preghiamo di assicurarvi di fornire l'indirizzo di fatturazione completo, il numero di Partita IVA, il Codice Fiscale ed il Codice Destinatario per la fatturazione elettronica. Grazie!
Bookings