Date/Time
Date(s) - 12/07/2023 - 13/07/2023
All Day
Location
on-line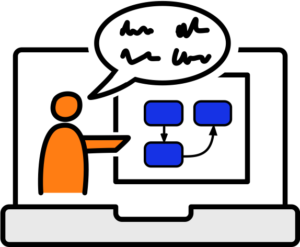 This interactive online course will be held in Italian!
–> Register now!
Interactive Online Version of the 2-Day CSPO course
---
Corso interattivo on-line con certificazione! Include una sessione di due ore di coaching/mentoring telefonico individuale valida per un anno dalla data del corso. Offerta Early-Bird e sconti per i gruppi.
Orari del corso:
Primo giorno: 9:00-17:30
Secondo giorno: 9:00-17:30
Riduzioni per gruppi:
10%  per 3 o 4 partecipanti
20% da 5 partecipanti
Investimento:
Tariffa regolare: 1.300 EUR  + IVA
Early Bird: 1.100 EUR + IVA per pagamenti avvenuti entro 12/06/2023
---
In linea con Scrum Alliance, possiamo offrire una versione interattiva on-line del corso includendo la certificazione Scrum Alliance (per maggiori informazioni: https://www.scrumalliance.org/get-certified/live-online-courses).
Naturalmente, continuiamo a focalizzarci su un'alta percentuale di insegnamento e apprendimento interattivo online e cerchiamo di modellare i nostri corsi online in modo più simile possibile ai nostri corsi in presenza fisica, in modo da garantire l'alta qualità dell'esperienza di apprendimento per la quale la nostra azienda è famosa anche nel formato online.
I contenuti del corso vengono offerti tramite vari canali con l'aiuto di strumenti online per agevolare la collaborazione in team (video conferenze, lavagne virtuali e flipchart online) e includono conversazioni di gruppo, video didattici, sessioni in tempo reale di domande e risposte ecc. Durante il corso, i partecipanti lavorano ripetutamente in team su progetti ed esercizi per vivere in prima persona i vari aspetti di Scrum in uno scenario live, persino nel formato online.
Per la certificazione, Scrum Alliance richiede un minimo di 14 ore di partecipazione attiva al corso. Ad ogni modo, per comodità reciproca, il corso online è diviso in più moduli. Nessuno di questi supera le due ore, con brevi pause quando necessarie e pause sufficientemente lunghe tra le sessioni. La durata esatta delle pause è decisa dal gruppo all'inizio del corso.
Se necessario, al gruppo sarà fornito materiale video supplementare, creato appositamente per il gruppo individuale e / o una sessione ulteriore di due ore per approfondire la sua conoscenza.
In aggiunta ai contenuti standard del corso, in linea con gli obiettivi di apprendimento di Scrum Alliance, il corso in formato interattivo on-line offre ai partecipanti un'esperienza in tempo reale di come gli strumenti online possano essere utilizzati in un contesto di pratiche dell'agilità, includendo le rispettive spiegazioni didattiche del trainer.
Il numero di partecipanti è limitato a 20.
---
Questo corso pubblico è diretto a chi vuole imparare l'arte di essere Product Owner in un corso interattivo in cui vengono utilizzate le più moderne tecniche didattiche per adulti.
Programma:
Che cosa è l'agilità e perché ne abbiamo bisogno?
Il ciclo Scrum dal punto di vista del Product Owner
Le cinque attività ed i 3+ artefatti
I ruoli di Scrum: Scrum Master, Product Owner, Developer
Il Product Backlog e suo ciclo di vita
Cos'è un Prodotto?
User Stories
Dalla visione al Backlog: come iniziare un progetto con Scrum

Identificare elementi di Product Backlog
Prioritizzare il Product Backlog
Pianificazione e monitoraggio di progetti agili

I limiti di applicabilità di Scrum
Come applicare Scrum in azienda: casi di studio e tipiche insidie
Orari del corso:
Primo giorno: 9:00-17:30
Secondo giorno: 9:00-17:30
Riduzioni per gruppi:
10%  per 3 o 4 partecipanti
20% da 5 partecipanti
Investimento:
Tariffa regolare: 1.300 EUR  + IVA
Early Bird: 1.100 EUR + IVA per pagamenti avvenuti entro 12/06/2023
Trainer: Pierluigi Pugliese, Certified Scrum Trainer
L'investimento comprende:
partecipazione al corso
i materiali del corso
ulteriore materiale informativo
accesso a video aggiuntivi per l'apprendimento
schede di autovalutazione
costo della certificazione e due anni di iscrizione alla Scrum Alliance
due ore di coaching individuale telefonico / tutoring per persona, valide per un anno dalla fine del corso
Nota bene: Questo corso include la certificazione rilasciata da Scrum Alliance, Inc., 7237 Church Ranch Blvd. #Suite 410, Westminster, CO 80021, USA, come fornitore esterno. Per la registrazione / certificazione @Scrum Alliance i nomi e gli indirizzi e-mail dei partecipanti saranno inseriti nel database di Scrum Alliance al termine del corso. Si prega di tener presente il fatto che i suoi dati personali saranno trattati da Connexxo e trasmessi a Scrum Alliance come fornitore esterno come sopra esposto. Sara' quindi contattato da Scrum Alliance via e-mail per creare un user account personale protetto per poter accedere all'esame online e / o al certificato. Maggiori informazioni: https://www.scrumalliance.org/privacy-policy
Registrazione:
Si prega di utilizzare la registrazione elettronica qua sotto. Dopodiché vi invieremo una fattura che vi preghiamo di saldare tramite bonifico bancario entro 10 giorni per evitare che il posto al corso venga riassegnato e comunque prima dell'inizio del corso. Per il diritto alla tariffa Early Bird fa fede la data del pagamento.
Condizioni di storno:
Fino a 30 giorni dall'inizio del corso: rimborso 100%
Fino a 14 giorni dall'inizio del corso: rimborso 50%
Meno di 14 giorni dall'inizio del corso: nessun rimborso
La sostituzione del partecipante può avvenire in qualsiasi momento.
Nel caso dovessimo cancellare il corso il vostro investimento verrà ovviamente rimborsato. Non siamo responsabili di eventuali ulteriori costi sostenuti dal partecipante.
Materiali del corso: Inglese, con parti in italiano.
---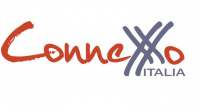 This event is organised by Connexxo Italia srl.
---
In caso di prenotazione come cliente business, vi preghiamo di assicurarvi di fornire l'indirizzo di fatturazione completo, il numero di Partita IVA, il Codice Fiscale ed il Codice Destinatario per la fatturazione elettronica. Grazie!
Bookings