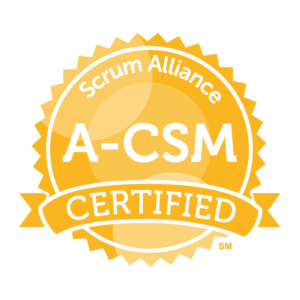 The three-day A-CSM Advanced Certified ScrumMaster course follows the basic CSM course, expanding on the core topics to excel in the Scrum Master role, being able to work competently with developers and the organisation. The course follows the respective Scrum Alliance Learning Objectives.
Thematically, the course is geared towards people who ideally already have a year of experience working in the Scrum Master role, as in addition to the prescribed content, the program consists of a series of reflections and discussion on what participants have already seen in the field. We will learn together how to be more effective in the Scrum Master role. (One year of hands-on experience as a Scrum Master is also one of the Scrum Alliance requirements for certification).
Our advanced certified courses are available in three different formats to suit your requirements: a public course setting (Live Online or In-Person), as an in-house course (Live Online or In-Person) and in Live Online and Self-Paced mode  (–> read more).
Course Agenda:
The Scrum Master role in more detail: what are the characteristics of a good Scrum Master? In this session we are going to discuss the most important ones…
Scrum as Inspect and Adapt: 
like all the other agile methods, Scrum has its cultural roots in the work of Toyota, which expands upon the ideas of Shewhart and Deming and the Inspection and Adaptation cycles. In this part of the course we will explore how these ideas are useful in making Scrum effective.
Elements of Facilitation: 
a good Scrum Master is also a great facilitator: in this section are looking at facilitation fundamentals that will help you to effectively support discussions in the Team and in the Organisation.
Elements of Coaching
: another of the fundamental roles of the Scrum Master is to know how to support the growth of people through coaching. In this section we will look at the fundamentals of Solution Focused Coaching, which is one of the most effective ways to work as a coach with the Team.
Scrum Master and Developers: 
in this section we are going to look in detail at how the Scrum Master works with the team on a daily basis: from how to create a high-performing team to how to deal with impediments and create a quality Definition of Done
Supporting the Product Owner: 
a good Scrum Master needs tools to support the Product Owner: in this section we will look at some of the most interesting…
Scaling Agility
: what if more than one team is needed for the development of a certain product? How can they organise themselves? How can a Scrum Master support such a team configuration? In this part of the course we will understand what the possibilities are.
Scrum Master as Leader: 
what does it mean to be a leader? In particular, how is it possible to be a leader in the case of the Scrum Master, where there is no managerial position? In this section of the course we will see how being a leader means being able to create following, so the leader as a person who in place of any authority nevertheless exerts authority, and knows how to use it to influence people.
CST Trainer: Pierluigi Pugliese
The course can be delivered in English, German or Italian.
The training material is in English.
After active participation in the course, holding a CSM certification and upon registering one year of experience the participant will be able to obtain the Scrum Alliance A-CSM certification. For more information: https://www.scrumalliance.org/get-certified/scrum-master-track/advanced-certified-scrummaster
The course is part of a series of component courses of a progressive Scrum Alliance model, a journey that allows participants to choose an educational path that deepens their basic knowledge of Scrum. The course conforms to the Scrum Alliance A-CSM Learning Objectives.
This advanced training offer is ideal for a Certified Scrum Master with already one year of working experience in the role within a Scrum Team.
Through the A-CSM, participants will learn to:
Facilitate better dialogue between the Product Owner, Scrum Team members, customers, stakeholders, and executives
Respond confidently when encountering resistance to change and know how to optimise motivation
Increase engagement to encourage greater accountability, commitment, and buy-in
Scale Scrum and Agile beyond a single team
Below you find a list with the currently scheduled public courses with the possibility to register online. If you are interested in having this course as a in-house or in mentoring mode please tell us about it using the Contact Form Course and we'll come back to you.
Please note: This course includes a certification issued by Scrum Alliance, Inc., 7237 Church Ranch Blvd. #Suite 410, Westminster, CO 80021, USA, as third party provider. For registration / certification @Scrum Alliance the names and eMail addresses of the participants will be entered in the Scrum Alliance database upon successful completion of the course. Please be aware that your personal data will be processed by Connexxo and passed on to Scrum Alliance as third party in the described fashion. You will then be contacted by Scrum Alliance by eMail to set up a protected personal user account in order to have access to the online exam and / or the certificate. More information: https://www.scrumalliance.org/privacy-policy
Currently Scheduled Courses
If you are interested in having this course as a in-house or to get the upcoming dates for public courses please tell us about it using the form below and we'll come back to you with updated information.