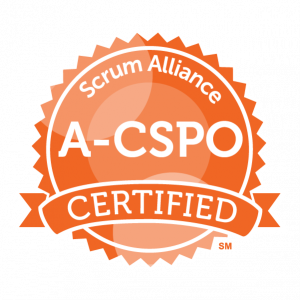 The three-day Advanced Certified Scrum Product Owner A-CSPO course follows the foundational CSPO learning. This educational offering is on the Scrum Alliance Path to CSP and provides professionals with a set of techniques and skills that go beyond the basics and mechanics of Scrum Product Ownership, expanding into managing stakeholders, product discovery, and advanced product backlog management.
This advanced offering is ideal for a Certified Scrum Product Owner who already has one year of experience working as a Product Owner on a Scrum team. The course complies to the Scrum Alliance A-CSPO Learning Objectives.
Our advanced certified courses are available in three different formats to suit your requirements: a public course setting (Live Online or In-Person), as an in-house course (Live Online or In-Person) and in Live Online and Self-Paced mode  (–> read more).
Through the A-CSPO course, the participants will learn to:
Prioritize multiple business initiatives from competing stakeholders as well as prioritizing user stories, technical debt and other product backlog items.
Define a clear product vision that ensures your product remains focused on the features your customers and end users will actually use.
Build better products that delight customers using Scrum and Agile.
Communicate effectively with various stakeholder groups to achieve alignment.
Identify the crucial opportunities your team and business need to deliver now and avoid wasting time chasing down the latest shiny object.
Provide greater business value and increased productivity with good teamwork and adherence to Scrum values and Agile principles.
Define and validate business value.
Develop stakeholder buy-in through effective, focused meetings that encourage stakeholders to trust your decisions and judgment.
Increase your credibility as a product expert and become recognized as a person who delivers real business results.
After active participation in the course, holding a CSPO certification and upon registering one year of experience the participant will be able to obtain the Scrum Alliance A-CSPO certification. For more information: https://www.scrumalliance.org/get-certified/advanced/a-cspo-certification
Below you find a list with the currently scheduled public courses with the possibility to register online. If you are interested in having this course as an in-house or in mentoring mode, including the possibility to adapt it to your individual needs with a more flexible course format, please tell us about it using the Contact Form Course and we'll come back to you.
Please note: This course includes a certification issued by Scrum Alliance, Inc., 7237 Church Ranch Blvd. #Suite 410, Westminster, CO 80021, USA, as third party provider. For registration / certification @Scrum Alliance the names and eMail addresses of the participants will be entered in the Scrum Alliance database upon successful completion of the course. Please be aware that your personal data will be processed by Connexxo and passed on to Scrum Alliance as third party in the described fashion. You will then be contacted by Scrum Alliance by eMail to set up a protected personal user account in order to have access to the online exam and / or the certificate. More information: https://www.scrumalliance.org/privacy-policy
Course Organisation
The training is based on the most modern techniques for adult education and is a balanced mix of frontal lesson and practical activities directed to the integration of the learned content in the daily operations of the participants. We will use plenty of case studies, where possible coming from the participants.
Agenda
The Product Owner role in detail
The Product Owner as organisational leader: interacting with teams and stakeholders
Product Ownership with multiple teams
Scaling techniques: Large Scale Scrum
Developing practical Product Strategies
Advanced Roadmapping and Release Planning
Customer Research
From Idea to Backlog: techniques for product inception
Effective business value delivery
Sprint Review Meeting
The Scrum Framework and Testing Assumptions
Comparison of Testing Assumptions
Outcome vs Output
Defining Value
Ordering of Backlog Items
Advanced Backlog Item Refinement
CST Trainer: Pierluigi Pugliese
The course can be delivered in English, German or Italian.
The training material is in English.
Currently Scheduled Courses
If you are interested in having this course as a in-house or to get the upcoming dates for public courses please tell us about it using the form below and we'll come back to you with updated information.